Angel Update:
20 Aug 2007: Angel started Kindergarten!!! It is hard to believe that she is old enough for kindergarten. I did the first day of kindergarten photo-a-thon! No tears for us though. I think we were both very ready for it (mom is boring! lol) She loves it very much. Every day she comes home and tells me about everything she is learning and her new friends. She loves her teacher, Mrs. Smith! She also loves the bus ride (probably because she falls asleep on the way home! lol).
Daddy taking me to school.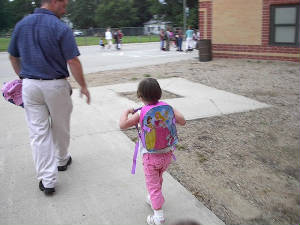 And of course Mommy is tagging along behind with Emma and Kody to take pictures!
Angel at kindergarten!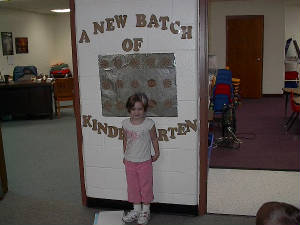 Angel standing in front of the sign next to her classroom door.
Angel hanging up her backpack.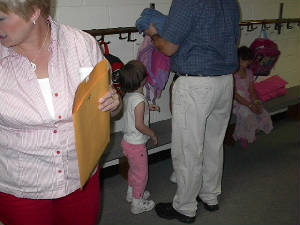 Look Daddy is helping her figure out which hook is hers. Thank goodness he works at the school!
Fleet Update:
Fleet has been determined to have Cushing's disease. We are working very hard to save this big, gentle, loving boy. Luckily Cushing's is fairly easy to control with proper diet and care. Please see the page on Cushing's to learn more about this disease.
Misty Update:
Misty recently had a minor set back in her training. After working one day. I was letting her graze in the pasture north of the barn where we work. She had been doing wonderful the whole time we were working. Suddenly CC realized that she couldn't see her anymore and started whinnying frantically. Misty paniced and ran for the fence. She was going to try to jump the five foot fence. I moved toward her to flag her off and that is when it happened. She hit one of the metal T-Posts (most commonly used with barbed wire fences). She was extremely lucky because when I yelled at her, she swerved off and instead of impaling herself on the T-Post and most likely killing herself, she grazed the top of the post with her neck. Because she turned off when she did, she missed her main artery in her neck, her trachea, and her esophagus. The vet said that she was very lucky to be alive. I just removed her stitches this morning and everything looks good. She is a little nervous to be handled after the incident...you would be too after getting a shot for sedation, stitched up, and then when you were awake getting two shots of penicillin and one tetanus anti toxin!!! She is getting much better and is back to being her in your pocket kind of self, just doesn't want the halter put on. With patience and time, I can get her haltered, but it usually takes about 10 minutes.
Please if you have T-Posts where your horses are pastured, take a moment and go to your fencing supply store. There you will find a safety topper that will protect your horse from an injury like this! It is much cheaper to buy the toppers than it is to pay for the vet bill or the loss of your horses life!
CC update:
CC is having quite a bit of trouble with her knee. The same one she got kicked in almost two years ago. She twisted it the day that we had tornados going on to the west of us. The barn door got pulled almost completely off its slide rail and the horses bolted out of the barn. It wasn't as swollen for a while, but it is starting to swell again. I am wondering if she twisted it again when Misty was chasing her around the pasture yesterday. Hopefully with care, time, and exercise she will start getting better again. She will never be free of the limp, but hopefully she will be comfortable again.